Team Suzuki ECSTAR GSX-RR '20

1/12 scale plastic model kit of the Team Suzuki ECSTAR GSX-RR '20.

About the model:
- 1/12 scale plastic model assembly kit
- Highly detailed model
- Length: 178mm
- Width: 62mm
- Height: 100mm.
- Features a detailed recreation of the forward-leaning 1,000cc inline-4 engine.
- Aerodynamically honed cowls are depicted in style, as are the distinctive winglets and lower fender.
- Decals are included for Joan Mir's 36 bike, Alex Rins' 42 bike, and also feature champion Mir's No.1 logo, plus test rider Sylvain Guintoli's No.50.
- Solid synthetic rubber tires have a realistic finish, and come with Michelin markings for application.
- Engine, swingarm and front fork are screw attached. Front and side cowls, plus tank cover can be removed after assembly.
- Masking stickers are included to aid with demarcation during the paint job, and the kit also features a racing stand.

Recommended products: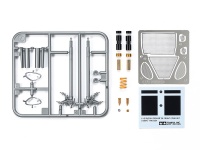 Customers who bought this product also bought the following products: