Centurion Mk. III - British Battle Tank - RC Full Option Kit

1/16 scale assembly kit of the British Centurion Mk. III Battle Tank - RC Full Option kit.

About the Model:
- 1/16 scale assembly kit
- Highly detailed model
- Length: 603mm
- Hull length: 476mm
- Width: 214mm
- Height: 189mm
- Weight (approx): 3,8kg
- The powerful form of the vehicle with the 20 pounder is recreated with formidable accurarcy
- In addition to the standard part an optional part of the gun shield canvas cover is included for display purposes
- Die-cast components for the running gear, like drive sprockets and suspennsion arms
- New generation gear box with 380 motors
- Comes with Type 380 motors (x2, running motors), type 130 motor (x1,turret rotation motor) and TSU-03 servos (x2, gun elevation and recoil)
- DMD T-11C unit with display
- Lower hull made from aluminum
- Realistic rendering of the Horstmann suspension system
- Aluminum gun barrel
- RC functions:
Propotional forward- and backward
Propotional left and right steering
Propotional gun elevation (up to 18 degrees, depression of 7 degrees)
Propotional turret rotation (360°)
Main gun firing with sound, flash and recoil
MG-Firing with sound and LED flash
Sound volume up / down via transmitter
- Realistic engine sound recorded from an original Centurion Meteor engine
- The battery pack is installed under the engine deck and is magnet attached
- Pre-build tracks

For RC-operation a 4-channel transmitter and receiver with analog trim is required. You also need one 7,2 Volt Racing Packs as battery.

Recommended products: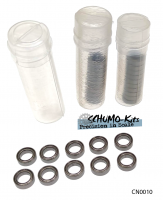 Customers who bought this product also bought the following products: