Engine grills for the Tamiya King Tiger rear. The four square grills comes with pre-cutted holes, which are matching exactly with the bolts on the upper hull.
The grills can be cemented or screwed. A fitting screw set is also available (hexagon screwset with high head, nuts and washers) see order number KT0010S.
Version 2.0, NEW redesigned version. Now with a three dimensional grid structure! This new version was made in cooperation with ABER.
Material: Nickel silver
Spacial thanks to Waclaw Peszko - ABER
This product is compatible with: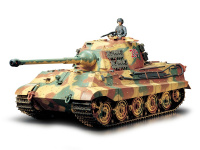 Customers who bought this product also bought the following products: